The Second International Istanbul Triennial held first by the Association of Independent Art when Istanbul was the European Capital of Culture in 2010, such concepts as miscommunication, isolation, alienation, deindividuation were focused under the heading of « Secret Language of the City" will take place between 28 May to 30 June 2013....
Taksim Republic Art Gallery will be used as an exhibition space for International Istanbul Triennial whose title «7 Valleys, 60 Wing Shadow». Mankind to himself and his journeys into the universe are aimed to be discussing between the theme of ‹search and discovery›. Works of such disciplines as painting, sculpture, installation, video art, performance and photography will be presented in «7 Valleys, 60 Wing Shadow» . Event name is related with Simorgh's story which has a narrative that is Attar's famous «Bird Language», thirty-bird passing in the pursuit of truth, through the valley of the backers of the seven strains and arrive in the range of thirty birds, understand that the truth is composed of their realities.
It is the journey time who aspires to go guided by Simorgh under the shadow of the 60 wings and pass through the 7 valley...

Curated by Hülya Yazıcı

Artists: Ahmet Özel, Ali Boozari, Ania Daria Merska, Ayşe Taşkent, Bernd Metz, Cenk Ertürk, Emeka Ogboh, Emel Erkan, Emel Nekay, Fatma Yıldız, Gamid Ibadullayev, Gülsevim Can, Hava Küçüköner, Hülya Yazıcı, Hüseyin Aktaş, Inbar Ben Ishay, İlhami Atalay, İpek Şenel, Jing Zhou, Lana Al Shami, Mary K. Foltz, Melike Demirkaynak, Mohamed Alaa, Mustafa Küçüköner, Nihal Odalı, Özgür Vural, Özlem Güzelyurt, Pınar Atlı, Said Adrus, Salome MC, Serap Ekizler, Sinan Sertel, Ufuk Duygun, Zeynep Kara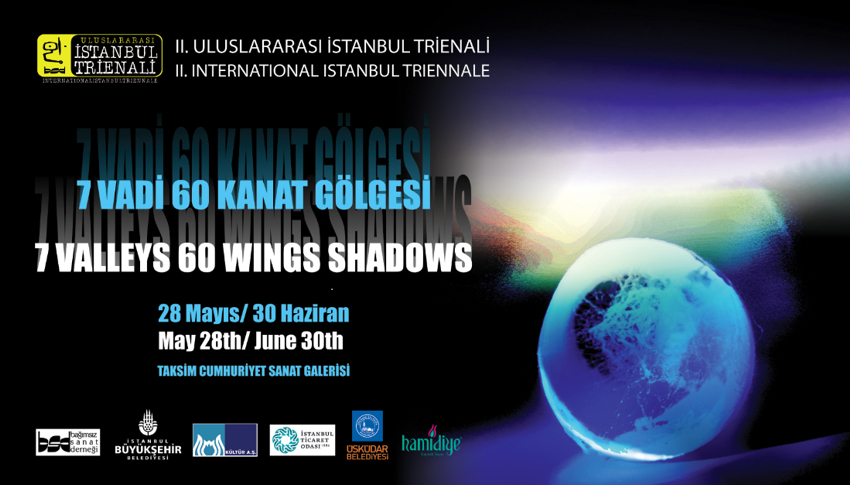 On my exhibition I present 21 paintings. This number is not a coincidence. It is a symbol of a harmony and a fulfillment. It is also a development that never ends, wisdom which you can achieve by trying to be perfect. It is a need of knowledge and recognition of a universal truth.

I'm walking on a winding  path as some kind of a passenger walking through a traced earlier road . You may say that new born life does not appear simply nowhere. The roots grown many years ago have marked  the beginning. That's why I follow with the baggage which I was given. I get to know the family and the products of human culture, also the universe and reality.

The energy is the basic property of reality and with the consciousness it becomes the material of a spirit, matter, time and space.  Nature with its natural force and phenomenons have always aroused my curiosity. They've become my first inspirations, thanks to them I started painting. The beauty of a nature enraptures and fascinates… That's how my first dream was formed and it was travelling. During my journeys I meet a lot of people. Relationships with them are a kind of a barometer, which helps me to get to know myself better and also shape my identity.
Meeting other people, exploring new places and participating in different situations helped me to grow my inner energy, which as a volcano lied inside me. Concentrating on a burst of energy brought out a new power - discovering unknown by intuition. Currently I'm searching and creating my own sense of life in order to find the inner harmony.